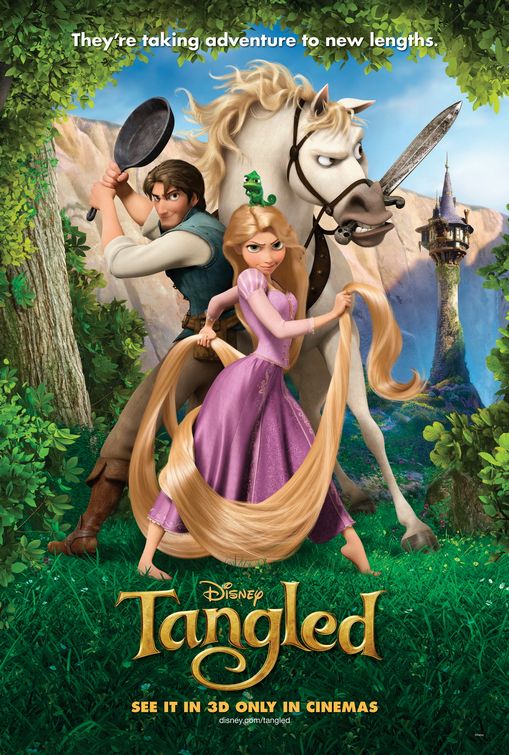 Tangled was awesome.
I have been dying to see it ever since the rumors first started circulating about it's production.
And then when several people I know saw it and liked it, I was just a little impatient to see it already!
It was far better than I had hoped or expected. Probably my favorite Disney movie ever, actually.
I have a new crush. Flynn Rider. He's got all I love in a man:
a bit (or more) of a bad boy
expressive eyebrows
great style. boots? oh yes!
amazing hair
white horse
a huge arrogance problem
fantastic nose
...and he likes brunettes!


Vest.
White shirt with rolled up sleeves.
Sweet belt action.
Way-cool boots.
He even has a cross-body messenger bag!
Well, in the movie they called it a satchel. But whatever.
Yup, he's my soulmate.
Rapunzel was awesome, too. She didn't bug me like many Disney girls bug me.
I have always loved Mandy Moore's voice, and there were some absolutely beautiful songs.
Maximus. He was absolutely hilarious. And strangely, reminded me of my cat.
It was just an all-around beautiful movie. So colorful and shiny.
I was such a wreck during this scene. It was so sweet and beautiful and warm fuzzying.
And... I cried at the end.
I am restraining myself from squealing about all the good parts, because I don't want to give it away.
So go and see it as soon as humanly possible and as you watch the really, really awesome scenes,
think of me and imagine me squealing.
I'm sure that will make your experience more enjoyable.
Not.
Moving on.
Have you seen it? What did you think?