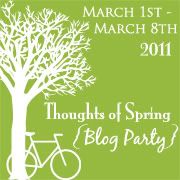 I'm participating in Lynette's blog party. : )
How would people describe your personality? (If they could only use ONE word.) Are they right?
I asked my sisters and one of them said "opinionated" and then "rolicking" and the other said "supercalifragilisticexpialidocious". I think most of my friends would say something like
extreme, loud, intense, excitable...
and they would be right. I think I'm a little too schizophrenic to have only
one
word describe my personality...
What celebrity/celebrities would create a "Star-Struck" feeling if you saw them in real life?
Any of my favorites. My "pretty-much-never-happening" bucket list includes hugging Chi McBride and at least standing next to Dwight Howard and Tim Tebow.
What is your comfort food/drink?
My current go-to item for when I'm alone and vaguely depressed is Greek yogurt mixed with honey and strawberry jam. And chocolate-iced cream-filled donuts from Krispy Kreme have been making me very happy for the last 24 hours.
Be brave – tell us something very random and weird about yourself.
I am a sniffer. My olfactories are hyper-active and love smelling things.
Do you have a strong desire to do something you've never done? What is it?
Oh, my, yes. There are a million-and-one things that I want to do. Right now, I mostly want to ride a hot air balloon and ride an elephant.
If you inherited a million dollars, what is the first thing you would do with your money?
Dash to the mall and then buy a plane ticket for a mission trip to Africa.
Name one weakness of yours (confession is good for the soul).
Food. And beautiful people.
If you could live anywhere at all (and take all your loved ones with you), where would you go?
Mexico, hands down. Just not in the scary drug-violence parts...
What's something you consider yourself to be good at? (Don't worry, it's not bragging, it's acknowledging a God given gift).
Um. I can copy most handwriting.. but that isn't a very helpful skill unless you're forging peoples' signatures because you're a bad guy.
What is one of your favorite things to catch a whiff of?
A faint, good, manly cologne. Ooh yes.
When you leave a social gathering, do you wish: You would have talked more or You would have talked less?
It depends on what kind of social gathering it was, but I regularly look back and think "wow... I really should have just shut up."
If money wasn't a factor, what stores would you shop in?
Anthropologie, Nordstrom, Brighton, J. Crew
What is your greatest fear or strange phobia?
Any of my favorite people dying tragically, and me not being there to die with them.
What is your greatest accomplishment?
Getting to the top of Mt. St. Helens, despite lots of snow, crazy, crazy wind, and ice pellets that drove sideways into our skin and left bloody scratches. Thankfully, my big brother was there to hold onto me so I didn't blow off the mountain, and we
made it.
It was one of the best feelings ever.
What are your favorite animals?
Tigers, elephants, and house cats. Except for ones named LaBoeuf who creep around on the table and eat purple tulips. Sheesh. But he also snuggles in my lap while I'm at my computer, so I forgive him regularly.
Are you a hopeless romantic?
I actually am not quite sure. I definitely used to be.
What movie or book character can you most relate to?
Some days it's Marianne Dashwood. Some days it's Rosalind from As You Like It. Some days it's the Red Queen from Alice in Wonderland. Most days it's Penny from Hairspray. Every day it's Emma Woodhouse, especially from the 2009 version (played by Romola Garai). She's more like me than anybody, ever.
Be sure and check out Lynette's blog. The blog party includes some seriously awesome prizes. If you do any of the questions on your blog, comment and tell me so I can check them out. : )