Update: this giveaway is now closed.
Spring is officially alive in my part of the world. This makes me happy in a constant-happy-dance, always-running-over-to-my-vase-of-cherry-blossoms-and-sniffing-with-reckless-abandon, love-everyone-and-give-them-cute-stuff kind of way.
Thanks to some truly spectacular sponsors, I get to do just that. : ) Here are the goodies...be sure and check out the lovely shops!
set of four upcycled frames from the art of chic
there are twelve separate prizes, which means there will be twelve different winners.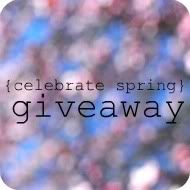 make sure that your entries are in separate comments, otherwise they won't be counted.
the giveaway will end on April 10th.
happy spring.